HVAC Unit Cleaning
Back To Our Services
The Heating, Ventilation and Air Conditioning (HVAC) unit is at the center of your entire system, so it's vital to keep it clean. During times of heavy usage and especially when the weather is either very cold or very hot, dust can build up in the unit quickly. Periodic HVAC unit cleaning will keep it operating effectively well into the future.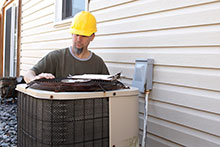 Cleaning Or Replacing The Filters
Your HVAC unit operates by drawing air in from outside the building. The air passes through a series of synthetic fiber or gauze filters. These filters not only keep out dust but also other pollutants, protecting the machine and keeping the air inside your home fresh and clean. Over long periods of time, dirt can build up causing the unit's filters to become clogged entirely. Removing the filters and cleaning them or replacing them with new filter screens, is vitally important if the unit is to run effectively.
Professionally Cleaning The Grilles
The air that enters or leaves your HVAC unit passes through metal screens, and these can get dirty too. Not everything will be captured by the filters, and the grilles can rust or even corrode due to ambient moisture. To avoid the HVAC system from becoming clogged with dirt and having to work harder than it should, grilles along with filters need to be periodically cleaned by an expert. Our team of local professionals is on hand to help.
Act Now To Avoid Future Costs
A dirty unit will need to work a lot harder to keep the air flowing and this can result in the unit overheating or even jamming. To avoid costly repairs or even costlier replacement, it makes sense to schedule regular, professional HVAC unit cleaning and filter replacement sessions.
Contact Us Today
Experiencing hot weather or expecting a cold spell? Whatever the weather, make sure that your ventilation system is clean and obstruction-free. Contact us today and make an appointment for a member of our team to visit you at your home or place of business.